Woorande is sometimes made as an offering at certain prayer events in the South African Indian community. This delicious treat was not made in our home and my first taste of Woorandes were those shared with us by neighbors and friends.
I loved these delicious chick pea balls/Woorande. Whenever we received these treats I was sure to make a beeline for the Woorandes.
Here is my version of the recipe. Please note that the words Channa/chick peas and garbanzo beans are used interchangeably. They all refer to the same lentil.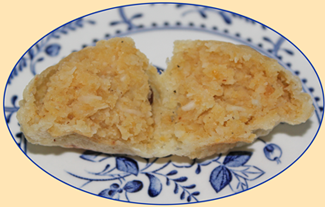 The cooked Woorande/Chick Pea Ball split to show the inside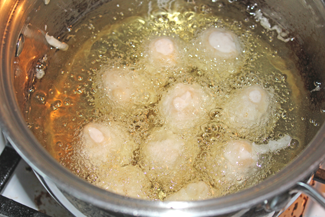 The balls being fried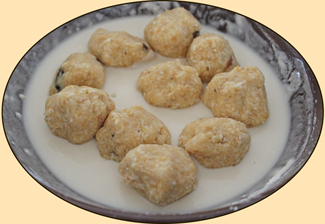 The balls dipped in batter. Will be fully coated with batter before frying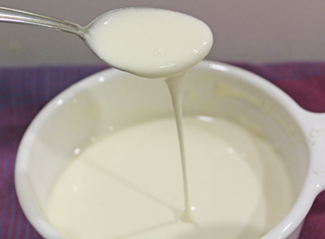 The batter has a pouring consistency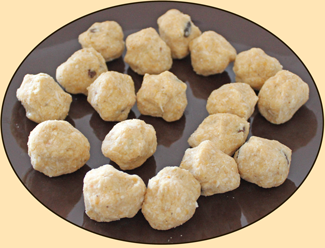 The ingredients are all mixed together and then shaped into balls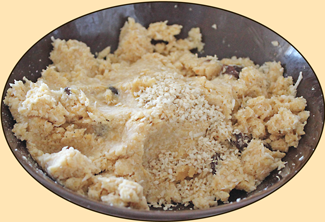 Partially mixed ingredients for Woorande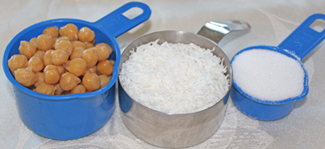 Chick Peas, Dessicated Coconut and Sugar, ingredients for Woorande
My first attempt
I learned to make Woorande after a friend showed me how to make the batter. I made the filling, the balls, really well and I was planning to make a scone like dough in which to encase the balls. Luckily for me this friend explained how it was done.
She proceeded to make a very thin batter into which the balls are dipped, and then fried. I now make them successfully and it is enjoyed by many family members.
Previously I used condensed milk as an ingredient but did not use it this time. It is just as delicious. The addition of raisins adds to the sweetness. Not using condensed milk also makes it a vegan dessert. You may boil the chick peas/channa/garbanzo beans or use the canned variety. I have had success with both.
1 cup of dry chick peas will yield about 2½cups of boiled chick-peas. You may choose to adjust this recipe to use all the boiled Channa or use the left overs for another menu, use it in salads, stews or just enjoy it as is with a bit of salt. I do hope that you try this recipe.
You may also use the split Channa/Chick peas/Garbanzo beans. Instead of using Channa dhal you may use Moong dhal/Mung Beans and just follow the same steps. Here is a link to view the lentil, if you are not familiar with, Mung/Moong.


Would you like Your recipe Published?
If you would like to share your recipe on the website, I will be happy to publish it for you. Send me recipes that you enjoy making. Remember to send pictures of the dish, as well as one of yourself.
How to Contact Me
Please send me an email at



or reach me via the Contact link.
PLEASE NOTE: if you use the form to send me a message, please remember to include your email address. There are many times that I have not been able to respond to questions because no email address was included. The only way that I can respond when you use the form, is via your email address. Thank you.