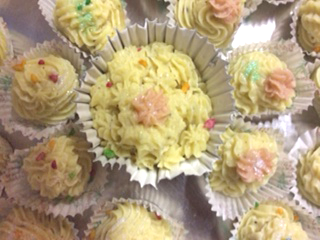 A close up of Burfi that has been piped by Maya Singh

A tray of Burfi that has been piped instead of set in a large tray. Other decorations have been added

If you think that Burfi can't get any richer or delicious, then you have not tried Enriched Burfi. This recipe, as the other one for, Burfi was given to me by my sister, Maya Singh. In addition to the usual ingredients, this version has condensed milk and Nestle cream as well.
Burfi is really very easy make. Just ensure to stir frequently & to cook it on a low-medium temperature. To decorate the Burfi you may chop up some sliced almond and sprinkle it on top of the Burfi, soon after you pour it onto a tray. If this step is delayed, it is difficult for the almonds to stick to the Burfi, as it begins to harden. You may also put the contents into an icing bag with a nozzle and pipe the burfi into various shapes. Decorate as you please. Burfi keeps fresh for about a week. After that refrigerate it or keep it in the freezer. It lasts indefinitely.
Health Concerns
Eaten in moderation, occasionally, this dessert should be okay. However, as with all the sweet desserts on this website, I recommend using substitute ingredients for butter, sugar, cream & milk that may be more suitable for certain health conditions. I hope you enjoy using this recipe. If you follow the steps you should success with it.
If you have any questions or would like to add a recipe of your own, email me, Nirmala, at
pather@qualitylivingstyles.com
You may also reach me via the: Contact Form
Do remember to use your email address when using the form. The only way I can respond to you is if you share your email address. Thank you.