Quality Desserts
The dessert recipes in this segment are rather rich as they are meant for special occasions & not for everyday fare. The ingredients that are used are high in sugar and fat content. My philosophy is, everything in moderation. So long as you don't have platefuls of these calorie laden goodies you should be okay.
If you have diabetes, exercise care and rely on your doctors advise about whether you may eat these rich desserts. Most of the recipes call for large amounts of butter & sugar. Do consider alternatives to ingredients like sugar, butter & milk.
To access all the delicious recipes for special occasions please use the sitemap links above.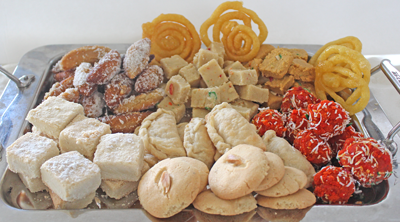 A tray of delicious treats at Diwali time
Diwali or Festival of Lights is one such special occasion when most Hindus celebrate the festival with lots of good & rich food, desserts, snacks & sweetmeats. The recipes here are a few of the traditional sweets that are usually made at Diwali.
Although I have mentioned brand names such as Klim Milk powder, you may use other brands of full cream milk powder. I usually use Mawa Milk powder that I buy from the local Indian stores in the USA.
You will note that many recipes call for ground cardamom, (also known as elachi), ground nutmeg, & colored sliced almonds. These items can be prepared ahead of time. Although cardamom powder is sold in stores,try grinding your own as the smell & flavor of freshly ground ingredients is so much more robust. Ground nutmeg can be bought at stores or you can grate a whole nutmeg to have that fresh, strong flavor.
If you like the effect of color, buy food color & the separate the almonds into different batches (about a 2 tablespoons each). Then add a few drops of food color to each batch. Get the children to participate and enjoy the "magic" they can create. Green, red and orange are commonly used colors. After spreading the almonds with color, dry them in the microwave for about 3-6 minutes or until the almonds feel firm.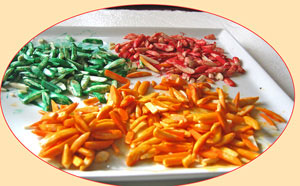 Almonds colored, ready to be chopped and applied to sweetmeats
Most Indian grocery stores stock cardamom & cardamom powder. I use a coffee grinder just for spices. Rinse, dry and then grind spices in the coffee grinder. I use the skin of the cardamom as well.
Some of the recipes call for ghee (a form of melted butter). Click on the link for, to see how easy it is to make, ghee
Conclusion
I hope you enjoy using these recipes. They have all been tried and tested by myself and the contributors of the recipes. So you can be assured that you will always have a successful outcome if you follow the steps.
If you would like to share your recipe and have it published on this website, please send me an email at:
pather@qualitylivingstyles.com
or reach me via the Contact link.
The recipes should be whatever you enjoy making. Remember to send pictures of the dish as well as one of yourself. Happy cooking
Please note: If you use the form to contact me, do remember to include your email address. If you do not include this, there is no way for me to contact you. Thanks.
---